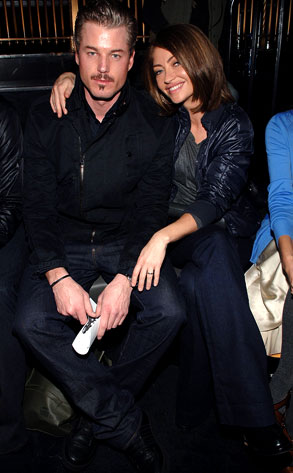 Jamie McCarthy/WireImage.com
He who laughs last, laughs best. They who laugh first might get sued.
In what comes as not much of a surprise, Eric Dane and Rebecca Gayheart have sued Gawker.com for "maliciously" posting that infamous video of the two of them romping nakedly around their home with ad hoc bathing buddy Keri Ann Peniche.
Gawker posted edited footage of the trio in which Gayheart and Peniche's breasts were exposed, but it linked to another site if you wanted to see full-frontal great Dane.
The couple want $1 million in damages and an injunction preventing any further dissemination of the video online.
Gawker publisher Nick Denton tweeted this response Wednesday afternoon: "To quote the great Marty Singer—Eric Dane's lawyer—if you don't want a sex tape on the internet, 'don't make one!'"