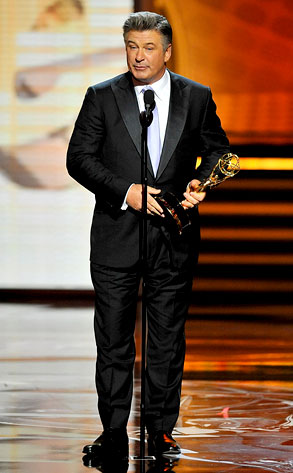 Mathew Imaging/Getty Images
Alec Baldwin won for the third consecutive year at the Emmy's for Lead Actor in a Comedy Series, but is he sweeping up in his love life like he is in his career?
We know we've been one to give Mr. B a bit of a hard time here, but we must admit, for some reason we're starting to dig the mature Baldwin. Maybe it's 'cause we're totally into the show 30 Rock and his character, Jack Donaghy, but recently Alec is, dare we say, attractive?
Embracing your age, instead of running from it, is a turn-on, and it's something we think A.B. could give his former 30 Rock guest star Jennifer Aniston a few pointers on.
Since she so obviously chooses the wrong men, we thought we'd intervene for a quick sec. We grabbed Alec and asked if he would ever date Jen (after all, they did lip lock a few times on TV).
You must check out A's response: