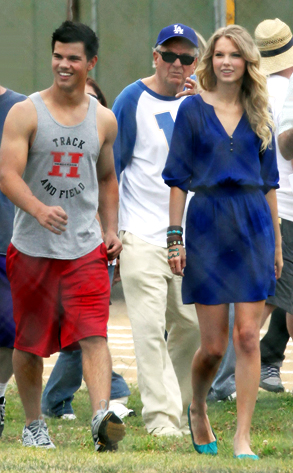 Fame Pictures
Dear Ted:
I am digging the Taylor Lautner/Taylor Swift thing. In the Entertainment Weekly interview with Taylor and Kristen this summer, he mentioned how much he really likes her music after working with her in their upcoming movie Valentine's Day, I can't help but to notice that he may have a thing for Ms. Swift. Taylor even made a comment during the VMA's red carpet interview that he was excited to see Ms. Swift perform. Is there a real TayTay in the making?
—Egger Fan Monielove
Dear Swiftner:
We sincerely hope so! It's just too precious not to happen. Plus, this is how people get hooked up in H'wood—they put it out there themselves, and complimenting your crush in an interview is a surefire way to get her attention. Plus we think a gentlemanly TL wouldn't break lil' Swifty's heart over the friggin' phone à la Joe Jonas.
Dear Ted:
Regarding the Kanye West/Taylor drama: maybe it's just my southern roots, but I can't believe that Taylor Lautner (the only guy on the stage) didn't intervene. He should have taken the microphone away from the attention seeking fame whore that is West and handed it back to Taylor Swift. Wouldn't that had been the gentlemanly thing to do?
—lavereeland
Dear Intervention:
He's a sweet guy alright, but he's not stupid. Who knows what crazy crap Kanye's capable of? Think he wants to get clocked on TV by a Hennessey-drinking rapper who can't control his outbursts?
Dear Ted:
We all know Megan Fox is one heck of a manipulator. Wouldn't it be better if she kept some air of mystery and keep her mouth shut instead? I would be much more interested if she did something bizarre and not know the reason.
—coolangel