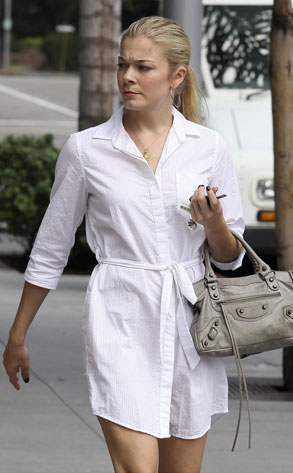 Jean Baptiste Lacroix/Getty Images
Homewrecker? Maybe. Car wrecker? Not according to the cops.
L.A.'s Finest have opted not to bring hit-and-ru charges against the country songbird for a fenderbender last month en route to a rendezvous with Eddie Cibrian.
Rimes was accused of fleeing the scene of the minor accident on the evening of Aug. 21. Officers conducted a routine probe and filed a report after interviewing the "One Way Ticket" singer, who was said to be cooperative.
But an LAPD spokeswoman tells E! News today that investigators decided to drop the case after it was clear Rimes did not realize she struck another vehicle.
Of course, that doesn't mean the streets of L.A. are any safer with Rimes on them.
Just yesterday, she reportedly rear-ended a Mercedes in Santa Monica while trying to elude paparazzi. Luckily no one was injured.
And this time she stuck around to trade insurance information.