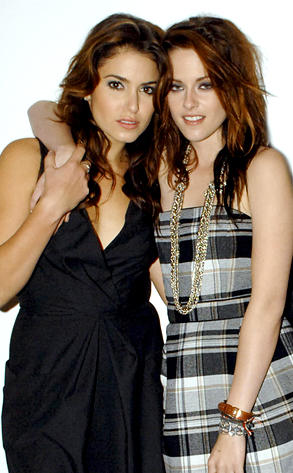 George Pimentel/Getty Images
Dear Ted:
Why isn't anyone reporting on the obvious Kristen Stewart- Nikki Reed relationship? I don't think Rob Pattinson is really dating her.
—Jo Sigler
Dear Lesby-light:
Wow, who would make a hotter couple Robsten or Kiki? But, let's get real: Robsten is, Kiki isn't.
Dear Ted:
Can't imagine people ragging on Jessica Simpson losing her Daisy and speaking out about it; what if it was them? Thank you for all you do - it's more than you know!
—Corlett
Dear Animal Lover:
Anything for you—and my furry friends!
Dear Ted:
I completely agree with you how people are treating Jessica Simpson, as well as people who smoke. Smoking might not be the best choice but it's a person's decision and there's plenty of other things out there that are much worse.
—Megz
Dear Blowing Smoke Up My Ass:
Thanks, isn't it rich how people automatically decide for other folks how their supposed to behave through tough times? So Jessica Twittered about a coyote taking her dog, so what? Show the woman some compassion, already. People like Kathryn Joosten, Patrick Swayze, me and others make mistakes and smoke. We're human.
Dear Ted:
That girl isn't the only one who loves both Robert Pattinson and Megan Fox. I'm a Robsten fan, but would totally love to see Rob and Megan getting it on in a movie. That right there will be hot!
—butter