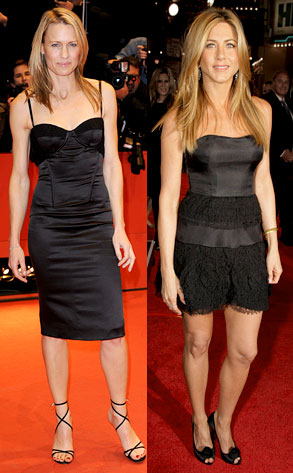 Pascal Le Segretain/Getty Images; Eric Charbonneau/Le Studio/Getty Images
Has Jennifer Aniston started a trend that isn't her damn haircut? Hanging around unavailable men is the new post-dumped way to behave in H'wood, à la Aniston. Oh no?
Then explain recently separated Robin Wright Penn traveling back from Toronto to LA on the same flight as Keanu Reeves. The two co-stars of the Brad Pitt-produced flick Private Lives of Pippa Lee, which premiered at the Toronto Film Festival, got close and personal on the five hour flight back.
"They checked in at the airport together and then sat next to each other in first class on the airplane," an eyewitness tells us. "They were smiling and seemed happy, but they were both wearing hats and seemed like they didn't want to be recognized."
So does this mean Robin's totally over sleazy ex-hubby Sean Penn?