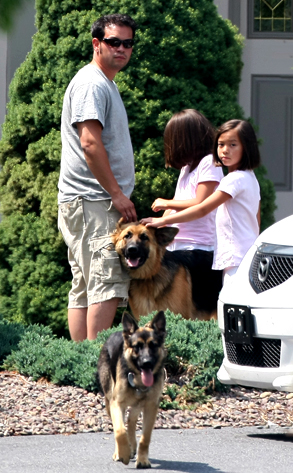 INFphoto.com
Is there no end to the collateral damage wrought by the Gosselins' marital implosion?
While it could be years before we know what the kids think of him, Jon Gosselin's dogs are the ones getting the short end of the separation stick right now.
The Jon & Kate Plus 8 dad confirmed to E! News Wednesday night that he is returning his German Shephard puppies, Shoka and Nala, to their breeder. He says his estranged wife refuses to care for them when it's her turn to stay with the children at the family's Pennsylvania residence.
"It's not fair to the dogs to not be wanted in their own home," Jon said. He did not say why he never took the dogs with him during those off-weeks.
These are the same two pups that Jon was referring to when he told People earlier this summer, "Those kids beat them up, climb on them, pull their tails, bite at them, drag them around and everything you can imagine not to do to an animal, they've done."
So was Kate's disinterest actually a blessing in disguise for Shoka and Nala?