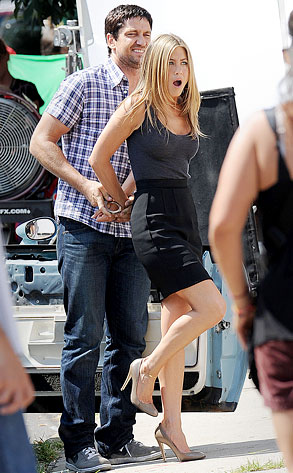 Humberto Carreno/startraksphoto.com
Dear Ted:
There's a lot of speculation about whether Jennifer Aniston and Gerard Butler have taken their onscreen relationship offscreen. They seem at the very least to be great friends and admirers of each other. Is there anything more going on there? The dinner they shared last week had conflicting reports: one stating they were intimate and affectionate with each other, while others said they were just having a "friendly dinner." Is the former just overactive imaginations, or is the latter just PR control, trying to cover the true nature of their relationship? Gerard let it slip in a radio interview that he had recently been to a BBQ at Courteney Cox's—is this all the proof needed to know that he and Jen are indeed more than mere friends?
—Rarnold
Dear Loveline:
There will be no Geraniston anytime soon. No romantic gazing-into-each-other's-eyes kinda dinner will be had by these two. This is strictly Renée Zellweger-George Clooney redux.
Dear Ted:
I hope Rob Pattinson does SNL. He is awesome! Someone needs to tell his manager and publicist to do their jobs and get him up to host. Anyway, Megan Fox is doing SNL next Saturday...can't wait. If she can do it, R.Pattz can, too!
—Nikkz
Dear Anomaly:
A girl who loves R.Pattz and Megan? Thought it wasn't possible. Agree with you on all of the above, babe.
Dear Ted:
Kanye is such a douche nozzle! Do you think he needs to spend part of his break in rehab?
—Karen