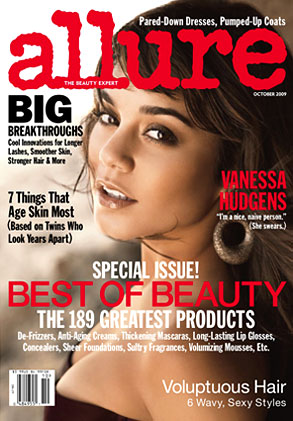 Carter Smith for Allure
It's hard out there for a High School Musical alum. Just ask Vanessa Hudgens, who spends the majority of her October Allure cover story begging everyone to treat her like a grown-up.
"People think of me as the High School Musical girl," she laments. "There's nothing wrong with that. My character was a great role model, but I get so bored doing the same thing. I want to grow like everybody else."
And she is determined to accomplish this, whether it be naked pictures (we'll talk more about those in a minute) or playing a prostitute in Zack Snyder's Sucker Punch. "It totally is my Angelina Jolie part," she said of the role. "I get to run around with guns and fight big men."
It's not just Angelina's career the 20-year-old wants to emulate...