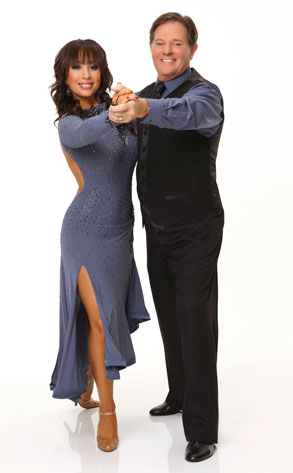 ABC/CRAIG SJODIN
The stress of preparing for his Dancing With the Stars debut is starting to get to Tom DeLay.
Or to his feet at least.
The ex-congressman revealed via Twitter today that he has sustained a pre-stress fracture in his foot—which appears to be a relief for the 62-year-old Texan.
"Old age is catching up to me, may have a stress fracture in my foot. no worries, it'll take more than that to keep me off the dance floor!" DeLay wrote around noon.
Two hours later, he followed up with, "No stress fracture! It is a pre-stress fracture. I live for another day."
DeLay's partner, two-time winner and last year's runner-up, Cheryl Burke, is either thrilled and relieved or has vowed to step harder on his foot next time.
Just judging by DWTS' track record, you could probably guess that this season's walking wounded will include more than DeLay. Sure enough, nimble Iron Chef America chairman Mark Dacascos, who's dancing with Lacey Schwimmer, bruised the sole of his foot while demonstrating his martial-arts mastery to his partner.
Let's keep our eyes on the disco ball, guys.