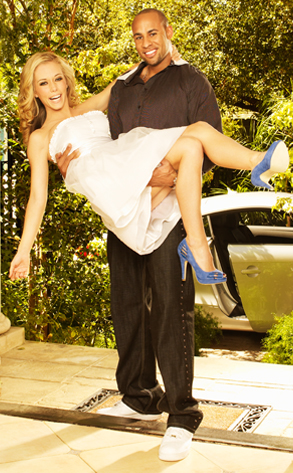 E! Networks
On the plus side, he won't have to worry about taking paternity leave.
Kendra Wilkinson's footballer hubby, Hank Baskett, has been released from the Philadelphia Eagles in advance of the team's second game (which, in a nice bit of past and present E! flame synergy, is against Reggie Bush's New Orleans Saints).
Baskett, a wide receiver, was cut loose to make room for another headline-grabbing player: Michael Vick.
The Eagle bombshell has landed.
News of Baskett's ousting comes after the expectant newlyweds decided to swap time zones, with Kendra and her reality show hubby ditching Los Angeles for a home in the City of Brotherly Love's suburbs.
Needless to say, when it comes to the Baskett brood, it's no longer sunny in Philadelphia.