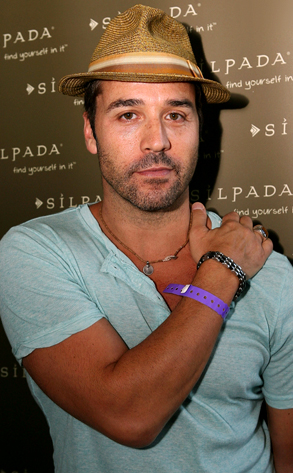 Maury Phillips/Getty Images
Is Jeremy Piven trying to single-handedly wipe out the New York theater scene?
The Piv's attack lawyers have sent a cease-and-desist letter to the producers of The Piven Monologues, a staged reading following the off-stage drama that was Sushigate, insisting that they "can't make defamatory statements about our client."
Hey, Piv, it's only a half-hour staged reading in a friggin' pub. And the dialogue is mostly just repeating actual quotes from the Mercury poisoning madness (like David Mamet's priceless line about Piven becoming a "thermometer"). All of which are friggin' facts—and ones you instigated, darling.
Go beat down Mamet's door if you don't like what he said about you! You should just be happy the court found ya innocent of backing out of your Speed the Plow contract, since we definitely heard quite the opposite from our own theatre-centric sources.
For a comedy actor, Piven really needs to get a sense of levity, not to mention humor, stat. Shouldn't Jer be thrilled people even give an ef about him? Not only should JP let the show go on, he should go onstage and play himself, for heaven's sake. Own your mess, babe.
It would sure win ya back the New York crowd, and you certainly need some more fans on your side if The Goods lackluster box-office and your lack of an Emmy nod this year is any indication.