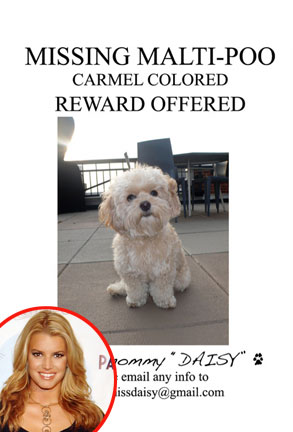 Denise Truscello/Getty Images
The dingo coyote took her baby!
Jessica Simpson is holding out hope that her most faithful of companions, her 5-year-old Malti-Poo Daisy, will have a safe return after she witnessed a four-legged predator snatch her beloved dog.
"My heart is broken because a coyote took my precious Daisy right in front of our eyes," Simpson tweeted yesterday evening. "HORROR! We are searching. Hoping. Please help!"
Along with the tweet, the distraught Simpson, who was surprised with Daisy onstage by her ex-husband Nick Lachey a half-decade ago, posted an online flyer with a picture of the MIA pooch, the words "I miss my mommy," an email address for people or, presumably, literate coyotes, to write with information, and the promise of a reward for the canine's safe return.
Dog speed, Daisy.