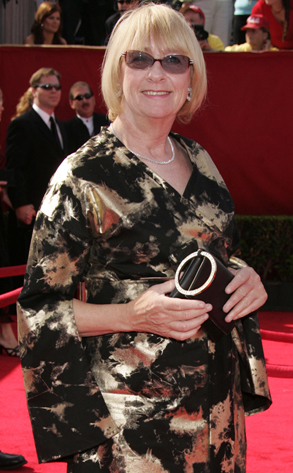 Lisa O'Connor/ZUMAPress.com
Such sad news: Funky and cranky-hilarious Kathryn Joosten, who plays Desperate Housewives' meddling Mrs. McClusky on the hit diva soap, is again fighting lung cancer. The 69-year-old star—many TV fans know her best as the president's secretary, Mrs. Landingham, from The West Wing—is "fighting mad," she says.
And not just about her own condition, but what she faces medically and politically, too:
"Lung cancer kills more people than breast cancer in this country, and it doesn't get anywhere near the funding. I want to be the Ryan White of lung cancer. This is so unfair."
Joosten, a heavy smoker for more than 40 years, was originally diagnosed with lung cancer in 2001. She had surgery and recovered without chemo or radiation, and she'd been cancer-free until last Wednesday, when she got the unfortunate news. "What a bitch, huh?," K.J. sassed.
When I asked Joosten how she's taking her recent diagnosis, she barked: