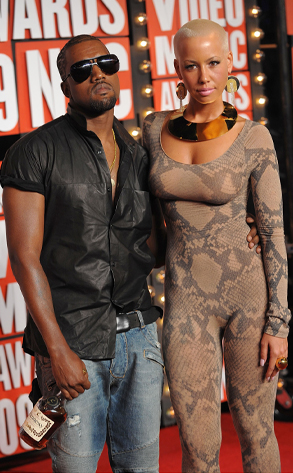 Dimitrios Kambouris/Getty Images
Kanye West's bitchface says it all in this pic of him and his babe candy Amber Rose walking the VMA red carpet. Kan sure isn't known for being modest—and this year was no friggin' exception with him interrupting poor Taylor Swift's speech.
But he does have a rep for being stylish. What the ef happened to this typically sharp-dressed man?
This usually delish duo obviously didn't coordinate their hideous outfits beforehand, 'cause they've got completely different looks going on:
Ms. Rose is clearly auditioning for the role of an alien in a sci-fi movie we've never wanna see, wearing the most unflattering, ugly-ass jumpsuit we've ever seen, wasted on Amber's hot bod. And KW's doing his own version of hip-hop trailer trash in ripped jeans and a half-tucked shirt, complete with a handful of Hennessy.
He makes us wanna scream-Tweet to him in all caps to not half-ass his wardrobe next time she shows up to an event. And stay off the stage when it's not your damn turn, a-hole!