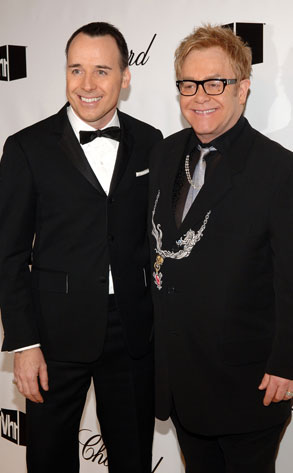 Jamie McCarthy/WireImage.com
Decorated music man Elton John might be expanding his brood.
The "Your Song" singer visited Ukraine with his AIDS Foundation on Saturday and found himself taken by a 14-month old boy who lost his parents to the disease.
"David Furnish always wanted to adopt a child and I always said no because I am 62 and I think because of the traveling I do and the life I have...wouldn't be fair for the child," John said of his longtime parnter, who was along for the trip.
So why now? "Having seen Lev today, I would love to adopt him. I don't know how we do that but he has stolen my heart. And he has stolen David's heart and it would be wonderful if we can have a home. I've changed my mind today," John lovingly exclaimed.
This new outlook can also be attributed to the recent loss of John's close friend and keyboardist, Guy Babylon.
"It broke my heart because he was such a genius and so young and has two wonderful children," continued the showman. "What better opportunity to replace someone I lost than to replace him with someone I can give a future to."