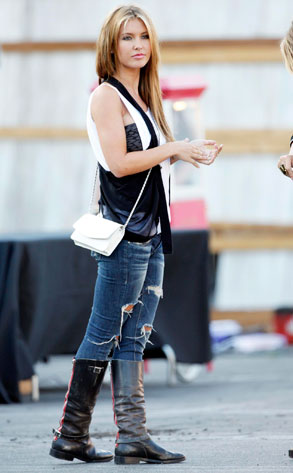 Ramey Photo
Big week for Audrina Patridge—Sorority Row premiere, Maxim cover, live-Tweeting with E! Online, stalker?
In documents filed today in Los Angeles Superior Court, Patridge's lawyers requested the order of protection against 24-year-old Zachary Loering on behalf of the reality starlet and her roommate-brother, Mark.
"I can confirm that Audrina Patridge filed a restraining order against an overzealous fan," her rep confirms to E! News. "Audrina and her family have no relationship with this person."
Court docs state that on Aug. 26, Patridge and her makeup artist answered a knock at her front door to find Loring with a stack of poems, pictures and cards he had made for her—including one drawing of a woman being strangled, ominously scrawled with the future date, Sept.15, 2009.
And it gets creepier.