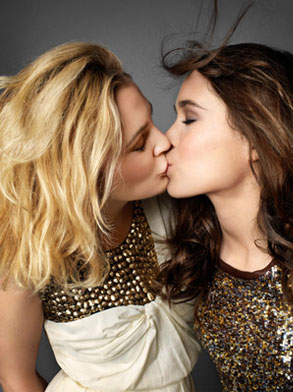 Peggy Sirota/ Marie Claire
It's Friday, a day where fantasies are fulfilled and the weekend looms.
Such is why we allow this this shameless ploy, created to get you thinking about buying tickets to Drew Barrymore and Ellen Page's upcoming movie, Whip It, when it comes out on Oct. 9.
Yes, they're smooching in the latest Marie Claire.
Apparently, they're so bonded that Miss Ever After even wore a scarf knitted by the Juno star to their joint interview. They talk about going on a surprise adventure together and admit to feeling the love. They even held hands throughout the chat. Because all besties do that.
"[Meeting Drew] was a surreal moment for me in my life," Ellen said. "You could just feel her warmth and kindness immediately, and the way she carried herself was just so grounded. So then it was like, 'Oh, this is going to be great.' And then it went into, 'Oh, my God, I'm really crazy about this person.' It just grew and grew and grew and grew and grew."
Kind of like your dirty minds.