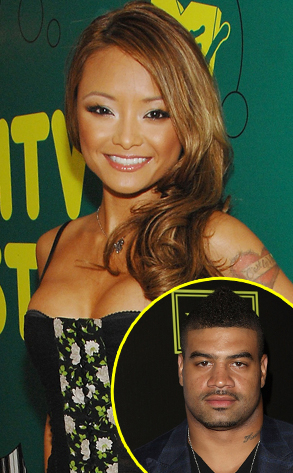 AP Photo/Evan Agostini, Jason Merritt/Getty Images
In Margaritaville, some people claim there's a woman to blame, but in San Diego, Tila Tequila says it's Shawne Merriman's damn fault.
Now it's up to the D.A. to sort out the whole sordid mess.
The San Diego County Sheriff's Department has handed off its evidence in the he-said, she-said case between the 27-year-old Shot at Love babe and the 25-year-old star NFL linebacker, and now it's up to prosecutors to determine whether to press charges.
Even though a tentative court date has been set, D.A. spokesman Steve Walker tells E! News, "We don't really have a timeline."
Meanwhile, Walker would not confirm a report that Tequila (aka Tila Nguyen) would be questioned by investigators today. She claims she was beaten up by Merriman and held against her will. Merriman says he was merely being a gentleman and refusing to let an intoxicated Tequila drive her car after a night of partying.
The D.A. has the power to file or reject charges against Merriman for the two felonies Tequila charged him with over the weekend: battery and false imprisonment.