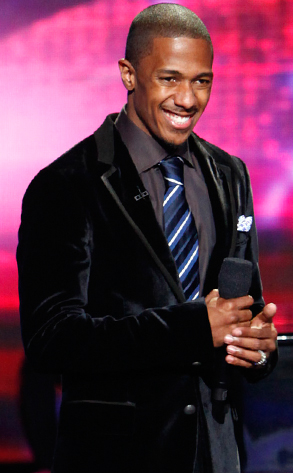 Trae Patton/NBC
More finalists, yes, but it's that Nick Cannon who keeps turning in the noteworthy performances on America's Got Talent!
While last week it was a hard-to-swallow introduction, tonight it was a bit of improv that Master Cannon mastered, when he was forced to ad-lib the show's closing seconds as he talked up next week's finale.
"We've got a whole load of incredible surprise guests for you..10 finalists, that million dollars is getting closer, it's coming…Monday night, not only is it the finale, but it's the premiere of The Jay Leno Show...
"And if you guys feel like I'm talking slow, it's because Piers is standing in front of the prompter!" he revealed.
Oh, Nick, you improvisational rogue!
Anyway, guess who's going to be facing off next week against the Texas Tenors, Fab Five, Voices of Glory, Kevin Skinner and septugenarian comedian Grandma Lee...