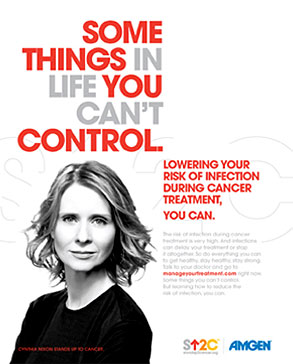 Courtesy of Stand Up To Cancer
Cynthia Nixon may be having a great time shooting the Sex and the City movie sequel, but she hasn't forgotten a side a life that's no laughing matter.
Nixon, 43, has teamed up with Stand Up to Cancer for a new public service campaign to educate cancer patients and their supporters about the risk of infection during treatment.
Nixon, a cancer survivor herself, is featured in print ads with the tagline, "Some things in life you can't control. Lowering your risk of infection during cancer treatment, you can."