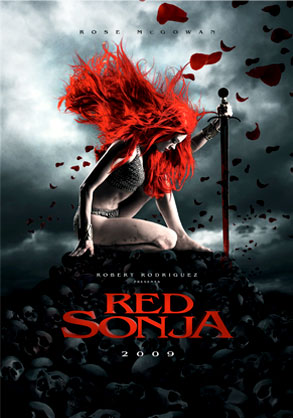 First Look Studios
We've heard of tennis elbow but this is ridonculous.
Rose McGowan is on the mend after suffering a serious on-set injury while shooting Red Sonja that required...well, let Rose explain:
"I had wrist and elbow surgery and they took part of my elbow out. I had really bad nerve damage from doing stunts—I do a lot of my own stunts," McGowan tells Fox News' Pop Tarts. "I could no longer use my arm, but now I can hold a fork and drive so we're working our way up. It'll probably be another six months of rehab, but it's the price you pay for being really limber and being able to do back flips!"
Production on the comic-book adaptation, helmed by fiancé Robert Rodriguez, has been halted while the 35-year-old actress recovers. And she's starting to feel stir crazy.
"Starting 2 want to work again. Sometimes real life f***ing sucks. That's all. God bless us survivors," she recently tweeted.
Presuming McGowan's arm is healed in time, Red Sonja should be in theaters in late 2010.