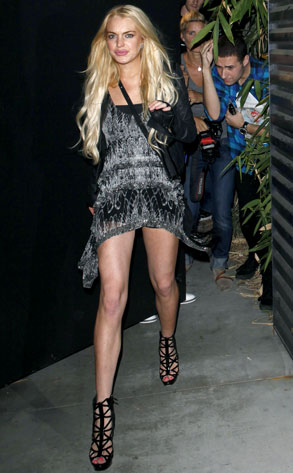 Jean Baptiste Lacroix/Getty Images
Lindsay Lohan isn't just using a Machete for work these days. She's using a needle and thread.
The leggings designer has been tapped as the Artistic Advisor of much lauded fashion line Emanuel Ungaro.
Forget funky Fornarina ads. The starlet will be collaborating with the label's newly-appointed chief designer Estrella Archs to put together the looks for the 2010 spring/summer collection, which will walk the runway on Oct. 4 during Paris Fashion Week.
"Twenty-first century muses are extroverts whose personal style and experience gives them a strong creative and artistic focus. Thus was our vision of combining the eye of a fashion creator with the eye of the ultimate luxury consumer, a celebrity," says Mounir Moufarrige, President of Emanuel Ungaro worldwide, in a statement. "Mr. Ungaro's success was based on his genius for design and his controversial eye to whom his consumer was. Lindsay is a world consumer with a clear eye for fashion."
Ahhh, so it was clarity that created those lips.
However, apparently the starlet and the seasoned clothing creator are already clashin' for fashion...