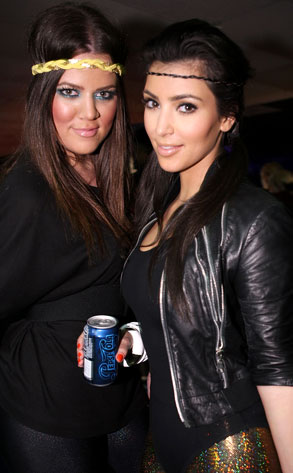 Chris Weeks/Getty Images
Apparently, blood isn't thicker than water for Kim and Khloe Kardashian, who seemed willing to forget the ongoing family feud with Joe Francis.
Their stepbrother Brody Jenner claims Joe attacked his girlfriend Jayde Nicole at a club. And although the girls attended Brody's birthday bash last week, they stepped out with Joe this weekend.
Joe, Kim and Khloé (along with her new Laker boyfriend Lamar Odom) all hit up Playhouse on Saturday night.
"They had a table and drank Veuve," a clubgoer tells E! News. "Joe was sitting with them all night. He was spotted talking Khloé's ear off the whole time."
Perhaps he was trying to explain his side of the story?
Kim and Khloé are telling their own story this week, too, straight from the cover of Life & Style magazine...