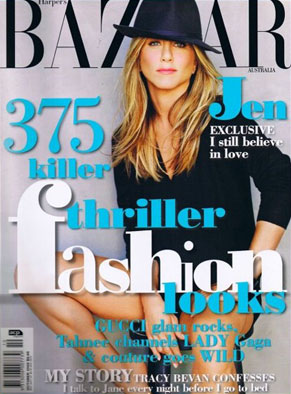 Harper's Bazaar
Proud "lonely girl" Jennifer Aniston is featured in Australia's Harper's Bazaar this month, and in addition to dealing with that hat they made her wear for the cover, she also talks about love!
No, she doesn't reveal anything groundbreaking, but anytime the actress uses the word love we must report it. So here we go:
"I'm still a romantic. I still believe in love," she says when asked if her relationships have made her cynical. How long do we have to keep hearing that Jen is OK? Just kidding, we know the answer to that question: forever.
As a special bonus, this article also comes with some relationship lessons direct from J.A.