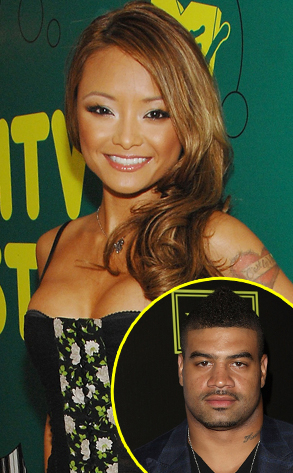 AP Photo/Evan Agostini, Jason Merritt/Getty Images
San Diego Chargers linebacker Shawne Merrimen is attempting to sack any rumors surrounding his alleged attack on Tila Tequila.
In his first response to Saturday's arrest over an altercation with his racy reality girlfriend, Merriman released a statement to FOXSports.com, saying that he "looks forward to clearing [his] name regarding these false allegations."
According to the NFL star: "On September 6, 2009 the San Diego Sheriff's Department responded to a citizen's complaint that was initiated by Tila Nguyen (aka Tila Tequila). I was taken into custody based upon that complaint.
"At the time, I was concerned about her welfare given the intoxicated state she appeared to be in and I encouraged her to stay until safe transportation could be provided," states Merriman.
The Chargers LB continues, citing concern for his girlfriend's well being as the cause of the scuffle: "We would all do our best to help a friend if we considered their actions to be detrimental to their personal safety. I in no way caused any harm to Ms. Nguyen, however, paramedics were called and she was examined but no injuries were reported. She was released and has since returned to Los Angeles, California."
As for whether Merriman will face criminal charges, the footballer appears to be confident about the future...