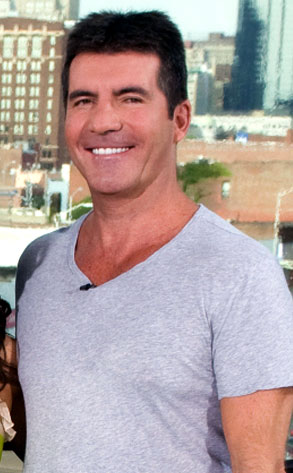 FOX
We know he digs the V-neck tees, but does Simon Cowell have an unhealthy—and possibly illegal—obsession with women's footwear?
That seems to be the gist of small-claims court action against the prickly American Idol overlord by a would-be chef who claims her pricey kicks were swiped by Cowell and ex-girlfriend Terri Seymour.
Meeshell Block claims she was having a try-out for a personal chef gig at Chez Cowell and, at their request, removed her shoes upon entering the domicile. (Maybe foot cheese was on the menu…mmmm!)
Trouble is, the cook somehow left her orthopedic-fitted sneakers at Cowell's abode residence. When she came back to retrieve them, Seymour's assistant handed over the wrong pair.
Now she's seeking $661.59 to cover the price of the MIA shoes, the insoles and $9 in gas used to drive over to his place. The first hearing is set for Oct. 29.
Cowell, who's used to giving tart criticism, not good arch, was unavailable for comment on whether he's holding the shoes hostage. But his rep has labeled the whole (toe) jam "ridiculous."
—Additional reporting by Claudia Rosenbaum