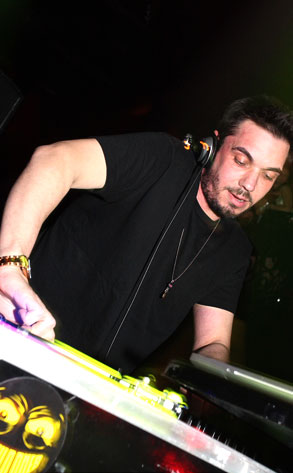 Courtesy LAX
DJ AM made a living experimenting with sound, mixing beats and finding new ways to keep the party going.
So it was only fitting that, to pay tribute to the famed record-spinner, his friends opted for an upbeat celebration of Adam Goldstein's life at the Hollywood Palladium, which, incidentally, was the scene of AM's first show after his and Travis Barker's plane went down last September, killing the four other people on board.
Lindsay Lohan and Samantha Ronson showed up together but were immediately swarmed by paparazzi, prompting them to hop back into their car and look for another way in.
A very pregnant Nicole Richie, AM's former fiancé, made her way inside a little before 7:30 p.m, followed closely by Robert Downey Jr. and his wife.
Fans started lining up outside of the venue a couple hours before the memorial's 7 p.m. start time (which was pushed back to accommodate the staggered arrivals), but VIPs who showed early were ushered inside through a separate entrance.
Rebecca Gayheart and Eric Dane, Tom Arnold, Jon Favreau, Mark McGrath, Simon Rex, and Nicky Hilton Rothschild beau David Katzenberg were also seen heading into the venue.