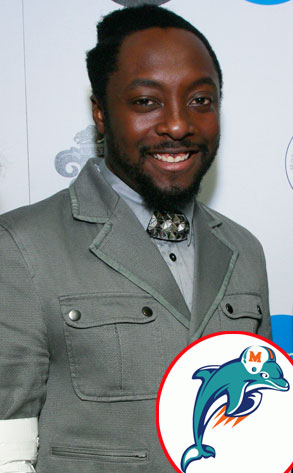 Alex Berliner, Courtsey Miami Dolphins
We guess the boom boom pow is off the Black Eyed Peas' metaphoric rose. Will.i.am is seeking a rather drastic career change.
The hitmaker and friend-of-Fergie has taken to his blog to plead with Miami Dolphins owner Stephen Ross to let him try out for the team. He's lookin' to turn his B.E.P. letters in for N.F.L.
"I always loved the game of American football," he writes. "I'm sad that I never followed my football dreams. Lately I've been thinking, is it too late to do it now? No way!"
He continues, both on the site and in a posted video, to tell of playing for his high school team—also the Dolphins—and call out some of the game's biggest stars, claiming to be able to out-run them with his "cheetah speed." To prove himself, he wants to race Deon Sanders, Hosain Bolt, ex-Falcons star Jamal Anderson and another guy the E! family knows quite well.