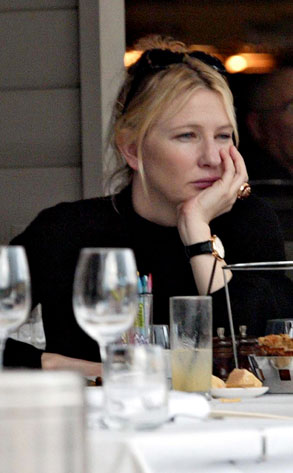 FAME PICTURES
Stella? Only if it's ice cold and applied at regular intervals to Cate Blanchett's bonked noggin.
First, the good news: Blanchett is "absolutely fine." The bad news: She was left bleeding from the back of the neck during her Sydney run of A Streetcar Named Desire today (the folks Down Under have got a good 18 hours on us) when a costar accidentally hit her in the head with a prop radio mid-scene.
"There was a minor incident on stage that unfortunately did injure Cate," Sydney Theatre Company spokesman Tim McKeough told Australia's Daily Telegraph.
If he would describe an incident that made Blanchett fall on stage and enlist the aid of a prop nightie to stem the flow of blood before theater staff evacuated the venue and ultimately canceled the performance as minor, then yes, it was minor.
Still, nothing a practiced thesp can't take in stride. Blanchett's Blanche DuBois is expected to return tomorrow night.
"Everyone is fine," McKeogh said. "Cate was injured, she got a bump on the head, but we're confident she will be on stage."
No doubt as an even more blanched Blanche.