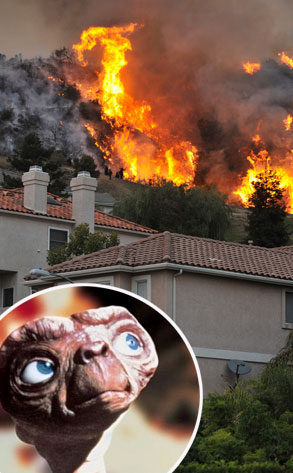 AP Photo/Jae C. Hong, Universal Studios
Thanks to the capricious ways of Mother Nature, with a massive assist from Los Angeles firefighters, E.T. still has a home to phone.
Michael Jackson's tigers—should they, you know, be capable of pulling off such a dialing feat—may not be so lucky.
The Shambala Preserve, run by Birds babe Tippi Hedren and, since 2006, home to the King of Pop's exotic felines Thriller and Sabu, has been threatened by the wildfires raging now less than a mile away from the 65-acre nonprofit sanctuary.
The 64 animals housed on the preserve may be the next victims of the area's forced evacuation by the so-called Station Fire, which has already displaced some 12,000 residents in the foothills of the Angeles National Forest—though movie lovers may be relieved to know that Elliott and Gertie's abode was among those spared.