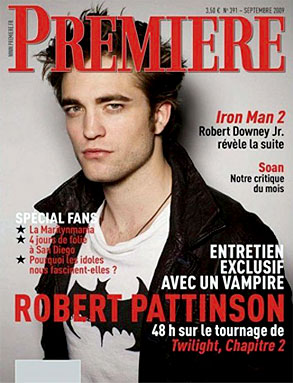 Premiere Magazine
Robert Pattinson's luscious locks grace the cover of France's Premiere magazine, and he reminds us why we're all so in love with him in the first place...just in case you all may have forgotten. A dedicated Rob fan gave us an English translation of his interview, and trust, Rob's personality is not lost in translation.
R.Pattz says Cannes was when he realized he was finally a star. "I was in a restaurant during a break, and when I came out two hours later, 500 people were waiting for me at the exit. It was total chaos. I'm sure that if I told one of those girls 'come, let's go have breakfast,' she would have been totally embarrassed and would never scream my name again."
Uh, think again, Robby. But can't say we don't fall for his charming "I'm really not that cool" spiel every time.
Our fave vamp does admit, though, with all this fame he came "close to losing" it last spring. Did Kristen Stewart talk ya out of it?