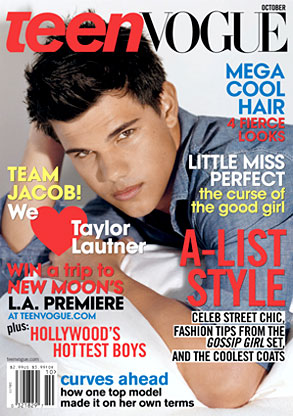 Teen Vogue
As the unofficial mouthpiece for all things Twilight, Taylor Lautner has been standing among the (wolf) pack of teen stars as its most articulate and well-poised. Yay for Team Jacob fanggirls!
But the half-naked New Moon babe is also an ace at being short-winded when he needs to be. Boo for fanggirls!
For his handsome, GQ-in-training cover shoot for Teen Vogue, he comes up with some clever ways to say "no comment," when questioned about Kristen Stewart and Robert Pattinson's romance, as well as his own with Selena Gomez.