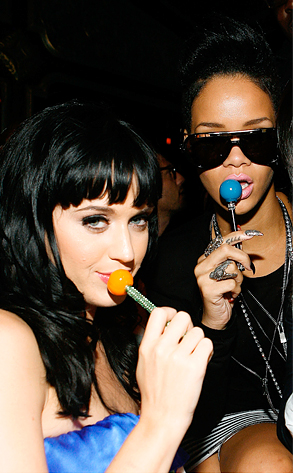 Amy Sussman/Sugarfactory
Katy Perry made her way back to Los Angeles this weekend, performing one of her tour's final shows at the Hollywood Palladium Saturday (you can watch it here). Upstairs in the VIP area, all eyes were not on "celeb" Perez Hilton who was in attendance (so cool he couldn't be bothered to take his sunglasses off the entire time inside), but rather on one of Katy's constant rumored love interests, Benji Madden.
Despite being quite short, B.M. was hard to miss with his standard fedora and tats on display. Benji was in a great mood, chatting with friends as he made a brief appearance upstairs before Katy took the stage. Mr. Madden went MIA during the show. Maybe to watch with Perry's "close friends" backstage?
After her fab performance, Katy headed over to club h.wood solo to meet new bestie Rihanna, who was not alone...