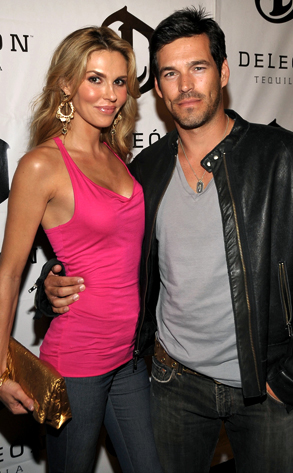 John Shearer/Getty Images
Sorry, LeAnn. Eddie Cibrian's first priority is being a good dad.
A few days after filing for divorce from his wife of eight years, the actor (and new beau to a certain singer) says that he and his ex, Brandi Glanville, will continue to work as a team—for the sake of their two sons.
"From the outset I have made a conscious decision to try and keep this matter private and not discuss it in the press," Cibrian said Thursday in a statement obtained by E! News, which first reported that the already separated duo had agreed to a more permanent split.
"While my wife and I are dissolving our marriage, we will work together to parent our two children," Cibrian continued. "I love my boys very much. I want only the best for them and am committed to being a devoted father.
"I will continue to be respectful and sensitive to this issue by not doing interviews about this ongoing private matter. I wish everyone would do the same."
Cibrian and Glanville have two boys, 6-year-old Mason and 2-year-old Jake.
And we're pretty sure both mom and dad would prefer to sort out their issues now, rather than allow for something Anne Hechian to happen in the future, when their kids have come of YouTube age.