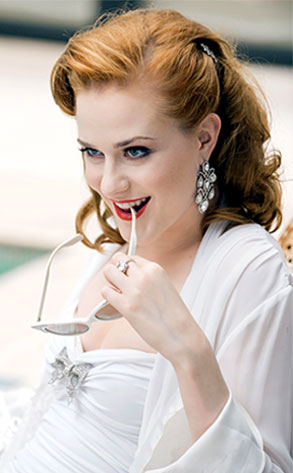 HBO/ John P. Johnson
Queen Sophie-Anne is True Blood's new equal-opportunity vampire.
Evan Rachel Wood, who makes her devilish debut on the show this coming Sunday playing the 1,100-year-old bloodsucker boss lady of Louisiana, says she could end up having sex scenes with any of her costars.
"She's not necessarily a lesbian," Wood, 21, recently explained to me. "Her human partner is a girl, but I'm pretty sure she goes both ways [laughs]. I think vampires are like that in general."
And they also don't mind getting naked! Read on to hear what Ms. Wood has to say about stripping down on the hit HBO series and watching Alexander Skarsgard take a shower. Plus, she sets the record straight about the Spider-Man musical...