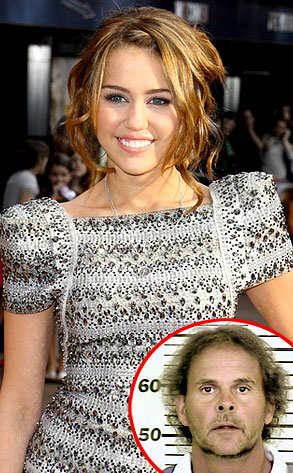 Mike Marsland/Getty Images; Chatham County Sheriff's Office
It looks like Mr. Miley Cyrus won't be getting out of jail anytime soon.
A Georgia judge has rejected a request to reduce the $55,000 bond for Mark McLeod, the obsessed fan who was collared earlier this month for allegedly stalking the Hannah Montana star during a film shoot near Savannah.
According to the Savannah Morning News, in a hearing on Tuesday, Judge Steven Scheer also called the 53-year-old McLeod a potential threat to the 16-year-old Cyrus and others.
"I can't deny him bond," the judge said, "but if I could I would, because I do feel he's a danger."