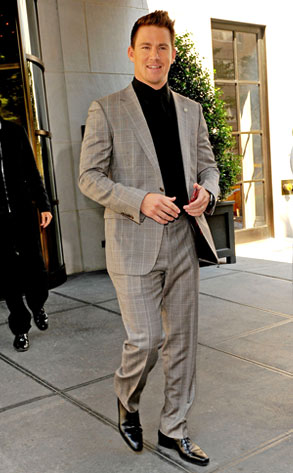 Tino Garcia/startraksphoto.com
Ted Casablanca is traveling this week and mail is being tackled by Team Awful—so try us!
Dear Awful Truth:
Help me understand this. Channing Tatum, married? To a woman? Seriously?
—Tony Capuano, Toronto, Canada
Dear Believe It:
Ah, I bet you were one of skeptics who believed the fairy cake topper was actually Chan's, weren't you?
Dear Awful Truth:
We keep hearing about all the Hollywood celebrities hot for Rob Pattinson. We know that already and it's understandable but how come we don't hear about the ones that are hot for Kristen Stewart? Surely there are many in H'wood who find her quite irresistible! She's smart, hot, very talented, and drop-dead gorgeous. I'm sure there's a long line of equally hunky Hollywood men out there just waiting for Rob to make that mistake of letting her go. Are these guys just too afraid to come forward and admit it or are they too scared of Rob?
—Potato
Dear Pattinscared:
Are you suggesting that once Robsten is over, K.Stew will become a serial Hollywood hunk-seeker cut from the same vein as, say, Jennifer Aniston? Somehow that doesn't really seem all that likely. And guys afraid of Rob? Please. Dakota Fanning could take him.
Dear Awful Truth:
Who would you say are the hottest (as in bods) TV actors/actresses under 35?
—Hot Tamale
Dear Too Many To Name:
Without saying too many? AnnaLynne McCord, Jared Padalecki, Brittany Snow, Robert Buckley, Alexander Skarsgard, Ryan Kwanten, Blake Lively, Leighton Meester, Chace Crawford, Kaley Cuoco, Milo Ventimiglia, Adam Gregory, Cory Monteith… the hot bodies go on and on, man.
Dear Awful Truth:
I just read you description of A-List vs. B-List, etc. And I just have to ask you. What does that make "The Hoff?"
—JDW
Dear Hasselhoff Has-Been:
Hasselhoff is pure, unadulterated, glorious, full-blown Z status, and there ain't no arguing with it.
Dear Awful Truth:
Here is my question: I know the Jonas Brothers have a lot to hide, and I had a friend tell me a little bit ago that 1) they are not brothers at all, it's just a front and 2) that Joe Jonas is actually Janice Dickinson & Sylvester Stallone's love child. Thoughts?
—Setzer