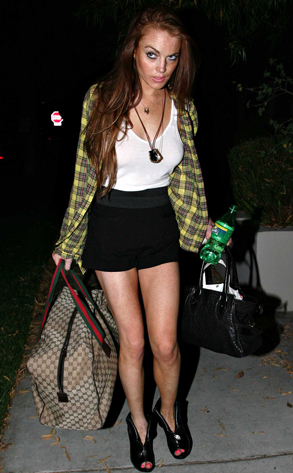 FAME PICTURES
Michael Lohan is about to go all former commander-in-chief on someone's, well, you know, vowing to track down the "evildoers" responsible for breaking into his daughter's Hollywood home over the weekend.
Here's hoping his mission ends up accomplished.
According to the patriarch, Team Lohan is bringing in some hired hands to discover whose sticky fingers burgled Lindsay Lohan's home over the weekend. Per Michael, it's not only the second time in three months that LiLo's been burglarized—it's also going to be the last.
"I am coming into town to work with private investigators in order to gather evidence which will be turned over to LAPD and the detectives assigned to the case," Lohan told E! News.
"This time, these evildoers will be caught."
And with Papa Lohan on the case, no one seems to have higher hopes for swift justice than, well, Papa Lohan himself, who apparently is both mad as hell and not gonna take it anymore.