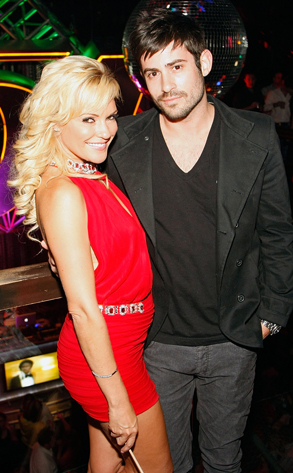 Ethan Miller/Getty Images for Studio 54
Yes, we did say trapeze. But more on that later.
Brainy Girls Next Door beauty, Bridget Marquardt, must have taken advantage of her rent-free years at the Playboy Mansion and is finally moving into a place of her own.
Earlier this month, Bridget was beyond excited to chat about her new digs with E! News: "It's my first purchase like this! I've never had my own house before. We ended up with a Tuscan style house."
The Sherman Oaks pad went for $1,725,000, reports the Los Angeles Times, but that's just the jumping off point.
Bridget has big plans for her new place. No, not another intimate grotto for skinny dipping adventures. Marquardt is having a circus-style trapeze installed in her two-story entry hallway! And before your minds wander to all sorts of strange and kinky places, the Bridget's Sexiest Beaches host simply uses it to keep that amazing physique.
"Trapeze is a great workout. It got me in the best shape in my life," says the Hollywood Aerial Arts member.
The apparatus will be "vintage-style—with velvet on the ropes and shiny silver balls on the ends," with an aerial loop, to boot!
Bridget and new roomie, boyfriend Nicholas Carpenter, will also turn one of the five-bedrooms into a wardrobe for her Girls Next Door memorabilia and add a water slide to the swimming pool.
Something tells us she won't be missing her Playboy digs any time soon.