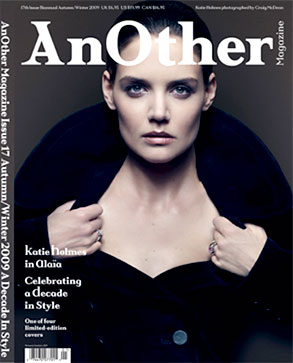 AnOther Magazine
• High fashion modeling always equals dead in the eyes for Katie Holmes, posing here on the cover of Another magazine. This will be a really good look for Holmes & Yang ads, you know, her "premium designer" line with her stylist. Can't wait.
• Brangelina took Maddox and Pax shopping for gerbils and goldfish. This is pretty important news that you should store in the "remember forever" portion of your brain.
• Ugh. Reporting on who Miley Cyrus is "full-on making out" with just seems so high school, and we can't muster up the energy to care right now. So just know it happened. Then she twittered she doesn't have a boyfriend. That's your Miley update.
• Awww, we all need a Tim Gunn in our lives. Then the world would surely be a better place.