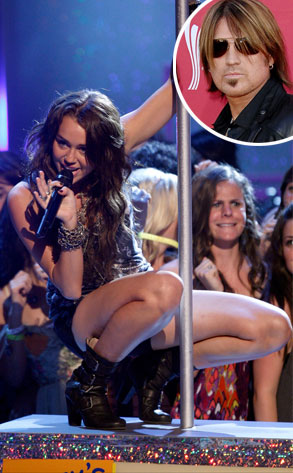 Kevin Winter/TCA 2009/Getty Images for Fox, Jon Kopaloff/Getty images
Yeah, we still haven't forgotten Miley Cyrus taking the stripper pole for a spin during the Teen Choice Awards. Apparently, neither did her father.
Only, Billy Ray Cyrus didn't find it quite as appalling as we—and, judging by your comments, you—did. In fact, the proud papa thought it was downright entertaining.
"You know what? I just think that Miley loves entertaining people," he told Access Hollywood.
People were entertained alright, but not exactly in the way a 16-year-old's father would necessarily want. But, then again, this is the boot-scootin' dad who set his teenager up with a 20-year-old boy.
"I always tell her to love what you're doing and stay focused for the love of the art and not worry so much about opinion," he adds.
"Art" = pole dancing. Got it.