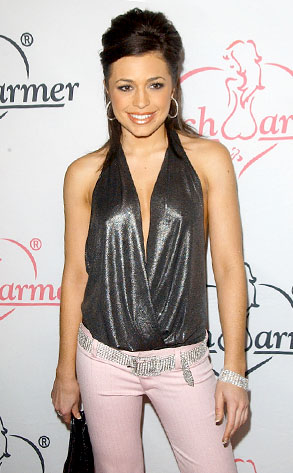 Albert L. Ortega / Getty Images
First Jon Gosselin, now Kari Ann Peniche. Ed Hardy designer Christian Audigier certainly seems to be surrounding himself with the cream of the crap.
Uh, crop. We meant crop.
Peniche, the clothes-averse costar of Eric Dane and Rebecca Gayheart, made her way, as all good tabloid targets do, over to Audigier's studios yesterday and while she left with the impression that she landed herself a design gig, she may be in for a rude awakening when she turns up for orientation at Ed Hardy HQ tomorrow morning.
A source close to Audigier denied reports of any collaboration with Peniche, a budding swimwear designer, saying "those are just rumors."
Now, if only we could track down where they first started…oh, that's right.
"I'm gonna be working on a bikini line," Peniche told paparazzi yesterday. "I start on Friday."
Yeah, that's probably what Gosselin thought, too.