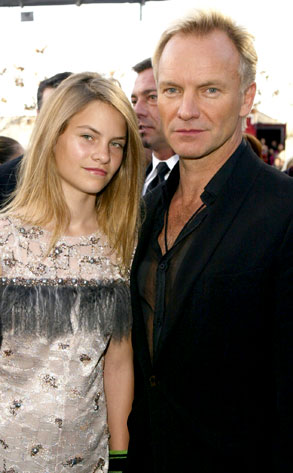 Jeff Vespa/ Getty Images
We've all heard the tall tales of Sting having Tantric sex with wife Trudie Styler for a jaw-dropping eight hours.
It's all false, says his 18-year-old daughter Coco Sumner in the upcoming issue of the U.K.'s Love magazine.
While this should come as no surprise, the source makes us a little queasy. True or not, why does she know this with such certainty?
Something tells us Rumer Willis wouldn't be so forthcoming with intimate details of Demi Moore and Ashton Kutcher's bedroom antics.
Coco blames the story for getting started thanks to Bob Geldof and, thankfully, admits it's a little awkward when reporters ask her about it.
"Bob Geldof made up this thing and it stuck and it's an international joke," she says. "It is a bit embarrassing when people bring it up. I don't really have anything to do with my parents' sex life. They love each other. So what?"
We agree that Sting and Trudie still loving each other after 27 years together (and 17 years of marriage today—happy anniversary!) is completely awesome, but perhaps a simple "no comment" would have gotten the job done and kept the story about Coco's own music career.