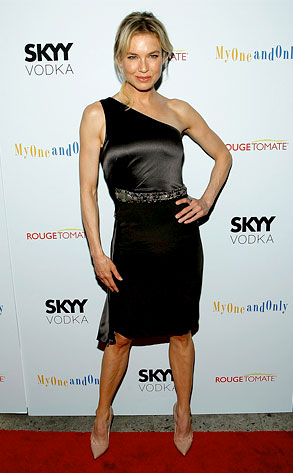 Jemal Countess/Getty Images
Renée Zellweger used to look so adorably perky back in the day, like a squinty-eyed Texas kewpie doll we all loved to love. But it's been a long, long time since her trademark uber-cuteness in Jerry Maguire.
Zell-hon, at the premiere of My One and Only in New York this week, is all veins and bones nowadays. She's showcasing a middle-aged man bod like Madonna, whose ten years her senior, though Madge wears the muscle look much, much better. Prolly cause she has to, since M doesn't let up the nonstop dude-wrangling, dancing on her months-long concert tours. What's RZ's excuse for trimming the fat?