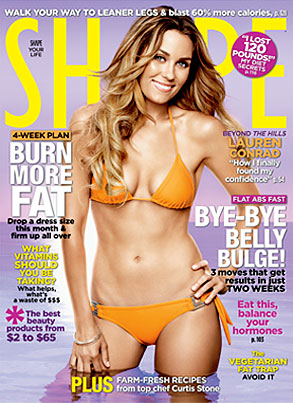 Shape
Lauren Conrad, ex-Hills star and New York Times best-selling author (yeah, it sounds weird to us, too), graces the September issue of Shape with a bikini bod that we can only assume was not given the Kelly Clarkson treatment.
Especially since the curvy Conrad reveals to the mag her secrets for staying so slim, including a diet filled with the likes of watermelon, organic salad greens and tuna.
"I've found when all I'm eating is really fresh, healthy foods, I stop craving pizza and burgers," she says.
Hmmm, clearly L.C. hasn't been taking culinary cues from a certain former frenemy…