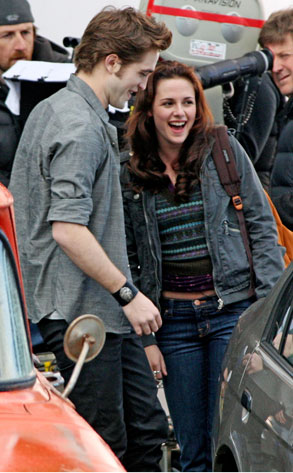 DZILLA/bauergriffinonline.com
Finally, the dawn of Eclipse is upon us.
Filming of the third installment of the Twilight Saga began today. It's only been, like, a million years (OK, three months) since New Moon wrapped!
Alas, the photos of the fantasy couple—Robert Pattinson and Kristen Stewart—together again have already begun and we couldn't be more excited to see those that'll inevitably slide down the pipeline in the weeks to come.
The David Slade-directed film, which centers around Bella struggling to choose between BF Edward or BFF Jacob as her friends and loved ones are under attack by the evil vampire overlords, the Volturi. You know you're getting (v)amped up just thinking about it!
Eclipse will make its debut in theaters on June 30, 2010, exactly 222 days after New Moon (and, for those keeping score at home, just 316 days from today).