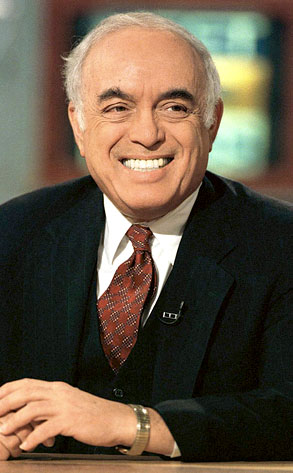 NBC photo/Getty Images
Robert Novak, the former CNN controversy-magnet and favorite Jon Stewart target, died today of brain cancer. He was 78.
The longtime Washington Post columnist-turned-political pundit was diagnosed with a malignant brain tumor in July 2008.
Aside from his nearly five-decade career in print, the "Prince of Darkness" was a TV talking-head fixture, holding down the right on such CNN shows as Evans and Novak, Capitol Gang and Crossfire.
Novak became a punching bag for The Daily Show's Stewart after outing covert CIA agent Valerie Plame in a 2003 column.
The fallout eventually ended his 25-year career at CNN in 2005, when Novak dropped an S-bomb and stormed off the set supposedly to avoid answering questions about his disclosure. He later joined Fox News for a brief stint before publishing his memoirs in 2007, led Prince of Darkness: Fifty Years of Reporting in Washington.