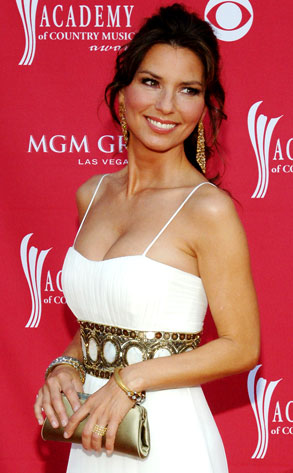 Denise Truscello/WireImage.com
From this moment, Shania Twain is part of the American Idol family.
The country songbird is the latest luminary to participate in Idol's very own version of musical chairs, having agreed to join Simon Cowell, Randy Jackson and Kara DioGuardi in Chicago for two days this week, E! News confirmed Monday.
Twain, who knows a few things about selling records, joins Victoria Beckham, Katy Perry and Mary J. Blige (and not Jessica Simpson) among the announced guest judges for the show's upcoming ninth season, which—in case you hadn't heard—will be its first without veteran tastemaker Paula Abdul.
Idol producers have said that they're planning to keep the four-judge format they introduced this year, though no names have surfaced as possible permanent replacements for the inimitable Abdul.
Meanwhile, though rumors have surfaced that Abdul and her former bosses have since returned to the negotiating table, there has been no official indication that a reconciliation is in the cards.