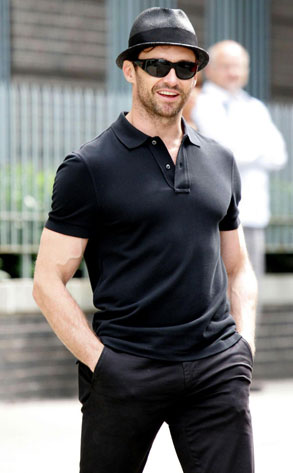 Carlos Costas, PacificCoastNews.com
Hugh Jackman getting super fabulous at Joe's Coffee in The Village on the corner of Waverly and—where else?—Gay St. (That's really the name of the street, folks.)
Hugh, whose in the Big A. getting ready for his play, A Steady Rain, with Daniel Craig, was with a cameraman shooting what looked like a documentary. Incredibly handsome in a tight black polo, HJ chit-chatted with bum-staring passersby, including a gal who mentioned to him that she's married to an Aussie. Hugh replied that they make such "good husbands"!
Do they, Hugh?
Especially when they're manly enough to star on B'way and get a hot fix in the gayest 'hood this side of The Castro, right?
While Hugh was more than pleasant while getting his coffee fix, one caffeinated dude less amicable to everyone around him was...